What is a dental implant?
A dental implant is a small titanium screw that serves as the replacement for the root portion of a missing natural tooth. Dental implants can be placed in either the upper or lower jaws. Due to the biocompatible properties of titanium, a dental implant fuses with the bone and becomes a good anchor for the replacement tooth. Dental implants can be used in solutions for replacing single or multiple missing teeth.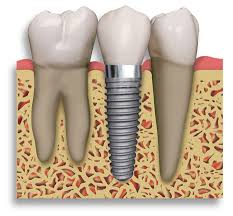 Free initial consultation – call now to book
Here at Bayside Dental Centre, we offer a reduced rate combined package to have the full procedure carried out at our practice. Our experienced dentist who specialises in surgical implant placement comes in once a month.